Henry woke up at 4:30 this morning, coughing. At 4:50, he got up and went to the bathroom, which involved talking to himself and turning the water on and off four hundred times. At 5:09, I got up to start my day.
I am TIRED, people. I've had one of those weeks where there was ONE too many things to do every day, things like have three cavities filled! and buy furniture! and clean the bathrooms before we all die from whatever it is you catch when little boys pee on the floor every single day! This week those one-too-many daily things got in the way of all the things I'm really supposed to be doing with my days, like WORKING, and also some things I just really enjoy doing, like SLEEPING.
Thank GOD for the concealer. And for coffee. Where would I be without concealer and coffee? In the fetal position under my dining room table, that's where.
I bought a new dining room table today (speaking of!), and a sideboard, and I am very excited about them but for now you will have to take my word that they are beautiful and perfect because the only pictures I have were taken with my cell phone and really don't do the pieces justice, mostly because they don't SHOW you anything, but whatever. Let's just say I will have more room to curl up in the fetal position once the new table arrives.
Speaking of things that have no relation to the things that came before them, I bought new mascara! In the interest of Science or Beauty or Not Spending a Fortune to Have Mascara All Over My Face (or all three, what the hell), I have decided to start road testing drugstore mascaras. First up: Maybelline Volum' Express, in the WATERPROOF formula. I think I paid five dollars for it, which is SUBSTANTIALLY less than the Dior NOT WATERPROOF mascara.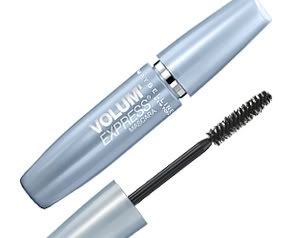 The label says WATERPROOF! Yeah, baby.
I nearly didn't buy this particular mascara, not because I know anything bad about it (I know NOTHING about it, except that it's WATERPROOF and requires heavy-duty makeup remover to take off, which is EXACTLY what I want) — I nearly didn't buy it because Maybelline's decision not to spell out the word "volume" in the product name kind of irks me. I may not be able to get past that, in fact, unless it turns out that this is The Perfect Mascara, in which case I will see what I can do.
I will report back tomorrow, after I have worn the mascara. If you are really lucky, there will be photos! But don't hold your breath. Also, if you're really REALLY lucky, I will show you what else I am wearing these days, in addition to the World's Best Eye Cream and the Miracle Concealer. Although without the eye cream and concealer, it wouldn't matter what else I was wearing, honestly.
And now, Internet, I am going to wash the mascara off my face and go to bed. The end.